Affiliate Disclaimer: This post contains affiliate links. This means we may make a small commission if you make a purchase.
Hey all! How are you doing?
This is going to be a quick and straight to the point blog post.
Do you want to get a logo designed for your blog but you don't have hundreds of dollars to spend to hire a top-notch graphic designer?
Well there's a much affordable, cheaper solution available to you which you may have not heard about. It's called Fiverr and you can get a decent logo made for your blog for as low as $5!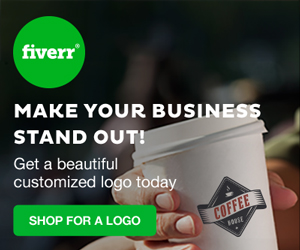 Gone are the days when you had to pay a graphic designer hundreds or thousands of dollar to design a logo.
There are plenty of designers on Fiverr that will do it for as low as $5 and up and you will be satisfied with the results.
I have used it a few times and I have never been dissapointed with the final product.
So you may be asking yourself, why are the designers on Fiverr offering their services for such a little price?
Well the truth is, alot of the freelancers and designers on Fiverr live in "third world" countries and the American/Western Dollar goes a lonnngg wayyy.
$5 is not much to the typical American. But for someone in a third world country, lets say India, $5 USD can feed his family for the entire week.
That's why the prices are so low.
Most freelancers on Fiverr will also offer extra services for extra fees, but its up to you if you want to take them up on their offer. But it's usually customary to tip them for a job well done.
So if you need a Logo for your blog, website, or business, check out Fiverr and get your logo made for an affordable price!